Change The Way You Keep in Touch
Communication has drastically changed over the years. As with all the things, there are positives and negatives. Being able to contact anyone in seconds is fucking amazing, but have we lost touch with the emotional part of the contact? It's so easy to just send a text and not actually call someone, but should you be making more of an effort to actually talk (not text) with certain people in your life? Does commenting on someone's picture on social media really keep you in touch with that person? There is a lot that goes on in someones daily life that isn't shown online.
A call to see how someone's doing instead of asking them through text, can strengthen your friendships and relationships. Hearing someone's voice makes all the difference. The next time you genuinely want to reach out to someone, switch up how you would normally contact them. Is there someone you care about but haven't talked to in a while? Someone that lives far away that you haven't seen recently? Someone you have been thinking about calling but never seen to get around to do it? Or maybe even someone you just want to say "thank you" to?
It's time to change the way you keep in touch!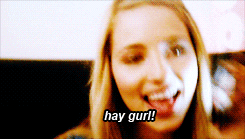 Our Favorite Ways of Keeping in Touch
Call Em': Nowadays we are so quick to send a text or Snapchat when we want to get a hold of someone. Try giving that person a call instead. This way they can hear the excitement in your voice when they answer and a simple, "hi" might grow into a much-needed conversation. A simple phone call is a great way to brighten anyone's day. 
Leave a Voicemail: So you called and they didn't answer. Leave a sweet voicemail saying why you called and let them know that they don't have to call back or that you're looking forward to hearing from them. Either way, it lets the person know that they mean enough for you to leave a happy voicemail they can always refer to.  
FaceTime:

We love getting FaceTimes from each other! We're not the type that needs to be "FaceTime-ready" and always get super excited when we hear that special FaceTime ring. We can be chilling on the couch, out at a bar or FaceTiming each other so they can say hi to the people we are with. It can just be so nice to see someone's face sometimes.

Old Fashion Snail Mail:  We still love getting a personal letter in the mail without knowing that it's coming. There is nothing like someone taking their personal time to put pen to pad just to send you a note. And this can be as simple as a single fold card that says "thinking about you". Getting a letter in the mail can spark joy in someone's heart! 
Ready

..

Set…Dial!

Both of us are making a conscious effort to change the way we are staying in touch with the people in our lives. We personally have had 15 years of perfecting the art of staying in touch. Living in different states, but communicating constantly, is what makes us the Besties we are today. So yeah, we guess you can consider us experts in this area! We all live busy lives, but if you care about someone enough then try making the extra effort to actually keep up with them on a more personal level. We encourage you to give this a shot with us and see how many peoples day you can make, just by changing up the way you keep in touch!   

Can you relate to this topic? Is there someone that came to mind that you should reach out to? Tell us your thoughts and your favorite way of keeping in touch!