Costco Membership
A Costco member is so worth it! It's $60 for a gold star membership, $120 for an executive account, and you get a 2% check back once a year from all your purchases. They also have discounted memberships for college students and military members as well.  And the membership is so much more than just an entry into this amazing store worldwide. You also get access to Costco gas, the car wash, tire sales, and my favorite, travel. Costco accepts all types of payment such as Visa cards, cash, checks, debit/ATM, Costco shop cards, and even EBT.   
Favorite Products
Costco has some awesome products that you just can't pass up! Here are a few of our favorites.
32 Degrees ANYTHING!- This brand makes the best clothing. Both inner and outerwear and sizes for the whole family. My family has their underwear, tights, long johns, short and long sleeve t-shirts,  sweaters, jackets, and dresses. We trust this brand so much that we will literally buy ANYTHING they offer. Their products are so soft and hold up in many washes. I am actually looking forward to going to Costco to see what 32 Degree products they have out for me to grab.
P&G Products- Costco has some amazing deals on P&G products. Here and there the have this deal where if you buy $100 worth of P&G products, you get $25 back. So what are P&G products? Just about any product you need in order to clean yourself or your home. That includes Cascade, Dawn, Mr. Clean, Bounce, Tide, Crest, Febreeze, Pantene, Gillette, Olay, Swiffer, Tampax, Downy, Oral-B, and NyQuil. Therefore it's pretty easy to hit $100 in order to get you $25 back.
Electronics– Whether it's a new large screen television or a new laptop for the student in your house, Costco has always been a go-to for electronics. They guarantee the lowest price and you are always welcome to contact them or the company of the product if anything goes wrong and they will do all they can to make it right. 
Name Brands- Costco has all the latest name brands. From Adidas, and Nike, to Puma and Calvin Klein,  you'll be able to find something you like. They have clothing, bags, shoes, socks, undergarments, and more in many different popular brands. Once again, these are in all sizes for everyone in your family too. 
Kirkland Brand
Costco's brand Kirkland is REALLY good. Usually, off brands taste worst than the name brands but not when it comes to Kirkland. For that reason, I TRUST anything Kirkland brand. Alcohol, food, diapers, detergent, batteries, and clothing all come in the Kirkland name brand and at a low cost. Costco has way too many great food products to name but do know that if Costco carries it, then it is highly approved.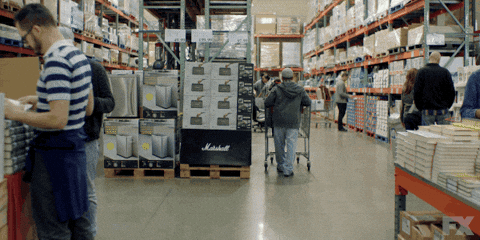 One-Stop-Shop
Honestly, Costco is the best place for your one-stop-shop. Go for anything and everything while getting the best deal possible. We go there for groceries, to buy plants (which you can return if they die), electronics, gift cards, clothing and shoes, presents, decor, and organizational items. Costco just seems to have the best policy and they have never let us down. And even if they do, just go return the product and no questions asked! So next time you are in something of need, stop by your local Costco, grab a $1 churro and let the adventure begin!