Health and Fitness Tips for the Office
Working in an office for 8 hours a day takes a toll on your body. I have worked in the corporate office environment for almost 12 years and have personally experienced the downside of this working style. Working long hours in front of a computer is not suitable for anyone, but it's mandatory for a lot of people. Over the years I have adopted new techniques and tricks to help balance out the side effects of working in an office.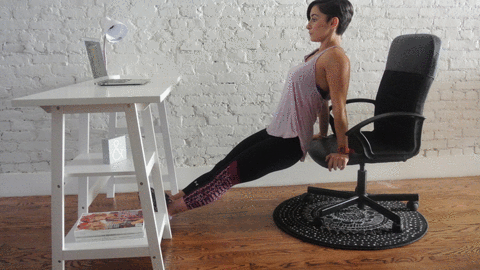 13 Tips
Get up often to take breaks/short walks. Get moving! Maintain a steady amount of steps throughout your day. 

Sit on a balance ball chair ( if your company allows them ).When I am in the office, I sit on my balance ball for the entire 8 hours. It helps with posture and core. Makes you more aware of your body. Swapping out your chair for a balance ball for just a few hours will make a HUGE difference!

 Pack and bring your own lunch and snacks. Eating out constantly is expensive and can be unhealthy. It's more cost effective and healthy to bring your own food.

 Keep healthy emergency snack options at your desk. There's nothing worse than getting hungry at 3:30 pm and all that's available is a vending machine. I keep snacks like oatmeal, granola bars, or veggie chips in my desk for desperate times. Trust me- it will save you one day!

 Eat your lunch AWAY from your working area. I often sit outside or going walking outside during my lunch. It's not a good idea to eat lunch at your desk. Change of scenery is good for your mind and getting your body moving is perfect for a mid-day break.

 Drink lots of water. At work, all I drink is water or green tea. NEVER soda. I drink a lot of water throughout the day. Also keeps me keeping up to go pee. Staying hydrated and getting up for those quick/short breaks every hour is an added bonus! Yay for water!

 Mental health and well-being are equally essential. Work is stressful. There are days when you don't want to be there, coworkers piss you off etc. I keep a clean and well-maintained desk. Keeping a clean and organized work environment makes for a positive attitude. I also keep stress balls and putty available in my office. I also have a low powered oil diffuser on my desk as well. Nothing like peppermint of lavender oil to calm you down during a rough workday. Take time to make your workspace fit for YOU!

 Resistance bands are great for the office! Use them around your ankles, calves or thighs under your desk! People might notice and crack some jokes but at least you will be toning your legs while on the clock! You can get some on Amazon for pretty cheap. One of my favorite sneaky fitness tips for the office.

Don't be forced to eat crap food! Pack your own lunch!

 Keep some sneakers in your trunk. If the weather is nice, go outside for a walk on your break. I also keep a little blanket In my car so I can sit on the grass outside and catch some rays. A little walking and vitamin D makes me happy and ready to knock out the rest of the day!

Do some squats! Pick a reoccurring time to knock out some squats throughput your day. You can do 25 squats every time you eat a snack or meal or 30 every time you use the restroom (if you'd rather do it in private). By the end of the day, you will have easily knocked out 100 squats and on your way to a perkier booty.

Keeping some light weights or even a heavy paperweight around can help you tone your arms. There are so many exercises you are able to do in the comfort of your desk even while sitting. 

Since you're in front of a computer so much, use it for your health. The internet is an amazing resource when it comes to health and fitness. You can look up exercises, recipes, videos and pictures on how to perform an exercise, healthy food alternatives, or even search for a workout group to try. Just make sure you don't spend too much time researching during work hours.

STRETCH! Take the time to do some shoulder, arm and neck stretching. You can do this seated or stand up. Office yoga is possible!

Balance is Key
These tips are just a few options on how to switch up your workday. Whatever you do to balance out your job and personal well being is up to you. It's vital that you listen to your body and how you are feeling. What works for one person might not be suitable for another and vice versa. Try some things out and see how you feel. If you eat right, get some exercise and take care of yourself mentally then your days will be better. Making money is important but caring for yourself is even more important!
Please share your tips on getting through your work day. What tricks do you have that make working in an office easier on your body and mind?