Benefits of a Thai Massage
There are so many benefits your mind and body will receive from getting a Thai massage. Taking care of your body comes in many forms. Exercise, hygiene, your diet, mental health, and skin care are some of the things that come to mind when you think about taking care of yourself. A Thai massage is a great way to treat yourself, relax, and get any tension in your muscles worked out. Some amazing benefits of Thai massages are: 
pain management

immunity boost

improves blood circulation

increase in energy and flexibility

decreases depression/anxiety

help with digestion

ease in PMS symptoms

promote inner peace/relaxation
What to Expect
Depending on the establishment you visit the experience can be slightly different. I have had Thai Massages that include stretching and others that didn't.  If you have the option, I highly recommend finding a place that offers "Thai Yoga Massage" as it's hands down the best massage when it comes to full spectrum benefits. If you have ever thought about getting one you might wonder what to expect. It will be different from massage techniques that you might be familiar with. Here's what to expect :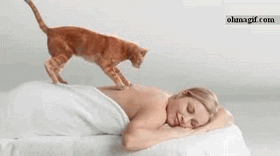 When you walk in you will immediately notice that it's quiet and peaceful. Turn your cell phone off, on silent or maybe just forget about it all together and leave it in your car. Take your relaxation time seriously and unplug for a bit. 

Wear comfy clothes. You won't be taking off any clothing for this type of massage. Think yoga leggings, comfy shorts, biker shorts, loose t-shirt etc. Ladies, feel free to ditch the bra if you choose. Also, go makeup free. 

They will take you to a private room and you can keep you personal items with you. You will usually be able to find a basket to hold your belongings in the room. Any clothing you decide to remove will be stashed in there as well. 

A Thai yoga massage takes place on a large mat instead of a traditional massage table. This is a massage combined with deep yoga stretching. The mat is needed because this is more of an "active" massage.

Your massage therapist will join you in the room. Usually they will ask if you have ever had this type of massage before. If you are a first timer they will help guide you.

Let them know of any injuries you might have or any special areas you would like special attention. If your neck is killing you- tell your masseuse.

There is usually music or relaxing mediation music playing. Maybe essential oils, incense or candles depending on where you go.

It's not good to stretch with cold muscles so the massaging is what is done first to loosen up the body and prepare your body for stretching.

Don't hold your breath. Focus on your breathing and your body will respond better to being relaxed and stretched.

Every part of your body will be worked on. They will turn you on your sides and work up and down all sides of your body.

T

he pressure will hurt at times but this is where your breathing comes in. Breathe into the pose and pressure. You will feel better after. I promise.

Be honest if the pressure is too much. You don't want to be in pain to the point where you are not enjoying the massage. There will be pressure but it shouldn't be uncomfortable to the point of wanting to stop.

They usually do some sort of scalp and face massage near the end as well.

Drink lots of water after your massage to help flush out all the toxins. 

A hot shower or bath is really nice for the muscles after a deep massage- take one if you can when you get home. 
I have had dozens of massages before and most of them being Thai. Out of all the massages I have ever had, a Thai yoga massage has been my favorite. Your body will feel better and I guarantee that you will want to go back again. I try to get a massage AT LEAST once a month. 
Take care of your body and your body will take care of you!
Have you ever had a Thai yoga massage before? If so, what was your experience?!