We teamed up with a fellow blogger named Alana. Here is a little bit from Alana about herself and her blog so you can get to know her a little bit more !
Hi there, I'm Alana Nicole! I'm a purebred Georgia Peach that loves apple pie and her dog more than words can express. I started Solely Living because I realized I wasn't the only one who didn't have it all figured out. I'm a paralegal, turned real estate professional, turned blogger! (​Whew! ) I was sick of having the same conversations with my besties and never getting any closer to figuring out the solutions. S.L. became my place to vent, let it all out and find my tribe. I created this lifestyle advice blog so other millennials can know they aren't the only ones. I love connecting with the amazing women who seek my advice and give some of their own. We are here to learn from each other and I wouldn't have it any other way.
Making the Decision to End a Toxic Relationship

The story is usually about the same, right? Girl meets boy. Boy likes girl. They meet for drinks, and a few weeks later are inseparable. Then, boy gets possessive/ controlling/ demanding/ aggressive/ needy/ annoying. (Circle all that apply.) Girl wants to end it but doesn't know how without irritating him more. Girl ends up staying because it's easier than leaving. Couple breaks up a few times but ultimately get back together after a few hours/days/weeks because, well, why not? Couple continues to live unhappily ever after until one of them finally steps away on faith.
If that ghost story sounds too familiar, I'm sorry you had to go through that. (I also want to make it clear that boys aren't the only ones who can have those negative qualities, okay?) But, living in a home that feels like a cave doesn't have to be your fate simply because you fell in love with someone who wasn't quite right for you. Sometimes, your picker is a little off and you just need to re-calibrate.
But, ​how?
How do you leave someone you still kinda love without seeming like the bad guy? How do you keep your grace? How do you leave when it's easier to​ ​​just stay? Sometimes fighting for your own well-being is more important than being timid. You have to take control over your life before you lose who you used to be without the person who's been holding you back.
Here's how I made that decision (​a few times…)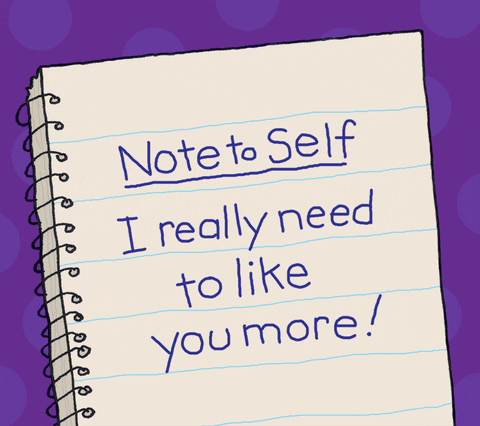 1. Write A Letter to Your Former Self  Tell her everything you thought she'd be and everything you need her to become. Tell her how you ended up here, why you aren't happy and what makes you think you deserve better. Tell her everything you've been hiding from your friends, mom, aunts and siblings. Then, read it like it was your best friend telling how bad her relationship has gotten. Give her the best advice you can. Now, give that advice to yourself.
2. Create A Pros and Cons List of Your Relationship It might sound childish, but it works! What are you actually receiving from this relationship? What are you getting in return for being you? Which list is longer? Compare this list to what you always wanted from a partner. Do they make you laugh? Are they kind, sensible, sincere? Do you feel loved?
3. Figure Out Your Love Language People who love differently can love each other as long as they know ​how
​ to love each other. You can't expect to be loved correctly when you aren't attuned to how you need to be loved. Try this ​love languages test​, do some research and be honest with yourself. Have you gotten enough of the love you desire from your partner? Truth is, probably not, but have they even tried?
4. Step Out on Faith…In Yourself
You know what you want and you know you aren't getting it. Now, you just have to trust in yourself. Pick a time and place that's the most comfortable for you. Sit your partner down for a nice meal, go for a walk, get ice cream, whatever you need to do. Take your time, speak clearly and be in control. You know this is what's right for both of you so now's not the time to see both sides. Tell your partner what you've learned about yourself and your relationship through the steps you took above. Explain why you are looking for something different and why your particular puzzle pieces just don't quite fit with each other. They don't have to agree, like it or understand, but they do have to let you walk away.
Believing in yourself and standing your ground are two of the hardest qualities to possess but once you know who you are, no one will be able to make your soul waver again.
How to Connect With Alana
Did you vibe with this article from Alana? We sure did! Almost everyone has been in a toxic relationship at some point in their life and had to make the decision to end it. This could be a lover, friend, coworker or even a family member. Making the decision for YOU and what is best for YOU is SO important!
Connect with Alana for more of her articles!
Keep in touch : IG ​@SolelyLiving​ / Twitter @SolelyLiving​ / Pinterest ​@SolelyLiving​ / Facebook: SolelyLiving​ / ​Hello@SolelyLiving.com​ / ​www.SolelyLiving.com